Spell Checker Test Kernel Results
---
Scores
Note: Only Data in which the correct spelling was found in all three dictionaries was counted.
The Score is: (Total Found)/(Total)*100
First is: (Total Found First On List)/(Total)*100, 1-5 is: (Total Found 1st - 5th)/(Total)*100, etc...
Dmetaph is Aspell .30.1 which uses the Double Metaphone algorithm. Please see my Metaphone page for more information. To see which words Aspell with the Double Metaphone algorithm got and Aspell .30.1 did not, and vice versa, please see this file.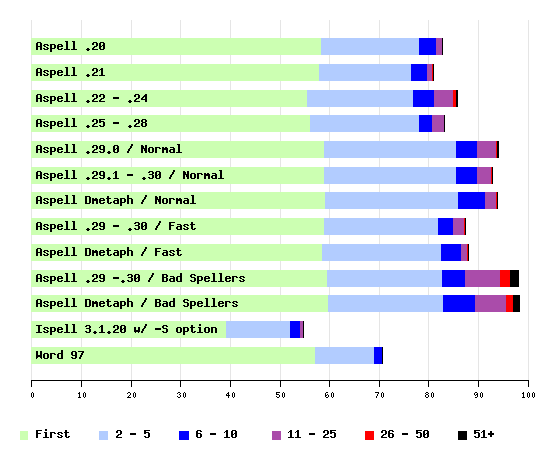 Graph created with Ploticus
---
Number of Results Returned
---
The Raw Data
---
Copyright (C) 2002 Kevin Atkinson (kevina@gnu.org). Verbatim copying and distribution of this entire article is permitted in any medium, provided this notice is preserved.